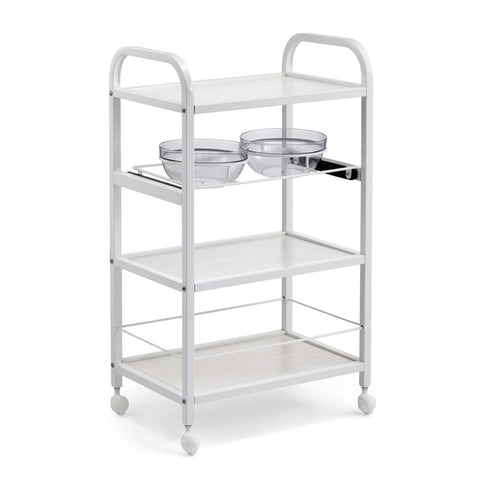 Beauty Metal Frame Trolley w/ Two Bowl Holders - ST381
SKU: 104381
ISBN: 0718879610786
$94.99
$124.99
you save $30.00
A multifunctional addition, the beauty rolling trolley is ideal for busy spas and salons. Strengthened with a steel frame, the guard railed storage can be relied upon to home pieces of equipment and products.
The sturdy construction and four casters make it easy for you to move the cart and use it wherever you like. It even fits in tight spaces because of its small size.
Maximise professionals' ease with accessible tiered storage and additional drawer runners to meet your unique needs.
Four high-quality wheels can be rotated 360 degrees, durable and flexible enough to transport your stuff.
Chrome finished beauty trolley with 4 shelves and bowl holder. Perfect for use clinic, spa, office, kitchen, bathroom or where you need some extra storage space.
***Bowl is not included.
Dimension:
Width: 19 in/48 cm
Depth: 13 in/33 cm
Height: 30 in/76 cm
WARRANTY: One year
Checking local availability
Shipping & Pick up