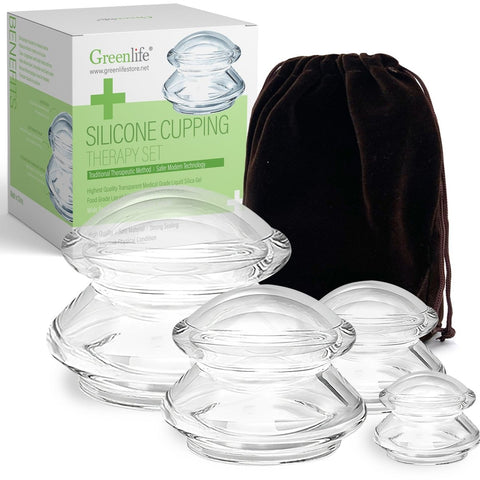 Silicone Cupping Device
SKU: 5100141
ISBN: 655887639005
$20.00
$28.99
you save $8.99
GreenLife silicone cups are manufactured for the highest efficacy in your treatment rooms - Chiropractic, pain relief, anti-cellulite and lymphatic massage, sports injury and recovery, muscle & joint pain, scar tissue healing and so much more!
Five minutes of cupping is equivalent to 30 minutes of a deep tissue massage. The cupping therapy will help you promote internal and external healing and improve your sleep quality by releasing endorphins.
Easy enough for personal care use or professional use. The strength of suction can be controlled by compressing the cup more or less. All you need is massage oil or try it in the shower or bath with water and soap. Cupping massage helps reduce stretch marks by improving collagen and skin elasticity.
Favored by massage therapists, TCM, and acupuncture therapists, these cups are not only comfortable to use but create effective suction for professional results or for home use.
Shipping & Pick up