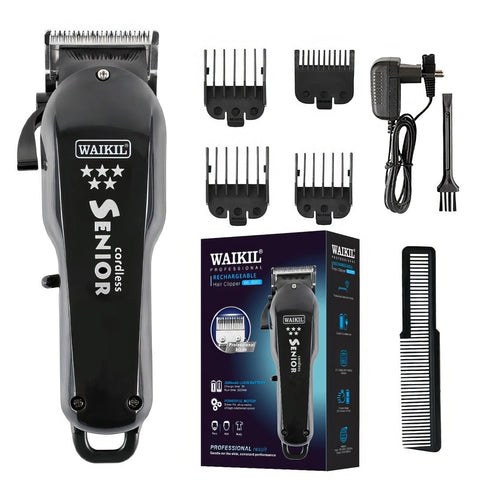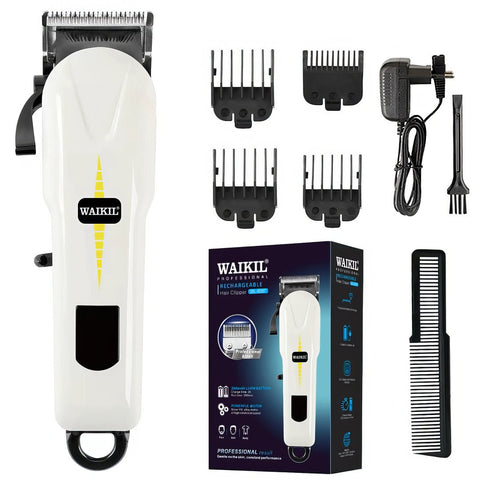 Professional Rechargeable Cordless Hair Clipper | WAIKIL
SKU: 52030007WT
ISBN: 619264625692
$40.00
$50.00
you save $10.00
Description:
The WAIKIL Professional Cordless Hair Clipper combines convenience and advanced technology to deliver a superior hair trimming experience. Designed for ease of use, this clipper is wireless, making it perfect for both professional and home use. Its ergonomic design ensures comfortable handling for precise and effortless hair cutting.
Features:
Wireless Operation: Easy to operate, offering maximum flexibility and maneuverability.
LED Display: Shows battery level, charging reminders, and maintenance oil reminders, ensuring optimal performance.
Alloy Cutter Head: Durable, wear-resistant, heat-resistant, and rust-free for a smooth shave without getting stuck.
Adjustable Speeds: Four-speed cutter head with adjustable taper control for trimming at different lengths.
Low Noise Design: Engineered for quiet operation, making it suitable for sensitive users and quieter environments.
Specifications:
| Specification | Detail |
| --- | --- |
| Battery | Lithium, 2000mAh |
| Charging Time | 3 Hours |
| Usage Time | 180 Minutes |
| Accessories | 4 Combs (3/6/9/12mm), Lubricating Oil, Cleansing Brush |
| Dimensions | 25cm x 7cm x 15cm |
| Weight | 0.5kg |
Shipping & Pick up