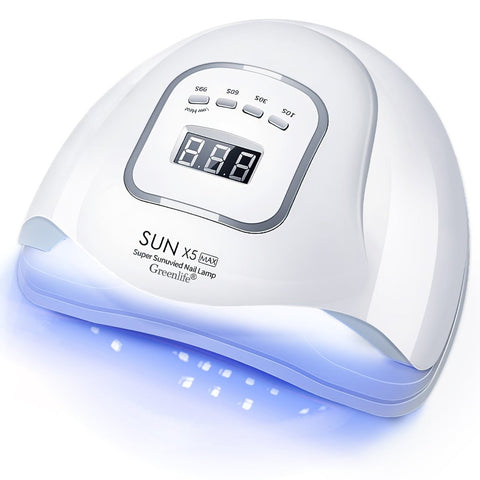 Nail Lamp Sun X5 Max 150W
SKU: 5011081
ISBN: 718879619000
This 150W LED UV Nail Lamp Dryer comes with 45pcs dual source lamp beads-LED and 365nm-405nm wavelength light. Which makes the UV LED lamp dries all kinds of LED and UV gel-based nails. Compact and close customization effectively prevents light leakage to protect the eyes.
The nail dryer is equipped with 4-time settings(10s, 30s, 60s, 99s) on top of the lamp. The countdown will be shown clearly with the display window after you put your hand on the stainless steel plate for UV LED gel curing, Which makes your manicure and pedicure better on-time control. With auto-sensor for work on/off. Hands in, turn the light on. Hands out turn light off.
150 Watt UV nail lamps take only 10s to dry nail gel, our professional LED nail lamp can shorten your curing time by 80%. You could not only save time and effort but also save an amount of money to get the same salon experience at home. It comes with 10, 30, 60, 99 seconds to follow your needs.
The dryer comes with 50000 hours lifespan chips in each LED UV bead, it is not easy to be broken, the idea for home and salon use. It can make the gel look shinier after curing, non-blacken for your hand. LED beads instead of UV tube, avoid potential hazards of element mercury, non-harmful.
Shipping & Pick up