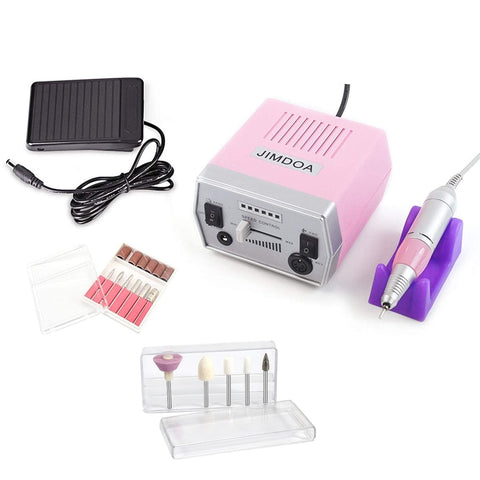 30000RPM Electric Nail Drill Manicure Machine(JMD302)
SKU: 5011075
ISBN: 631390772149
💎 ADVANTAGES: Powerful, No vibration and no noise, adjustable speed (0 to 30,000 rpm), nail salon's standard, for professional and/or personal use. It adopt genuine Japan bearings, perfect bearing concentricity, truly achieve superior performance. And design with ventilation for reducing the handle part temperature.

💎 MULTI-USE - For removing semi-permanent nail polish, gel nails, acrylic nails, artificial nails; trimming natural nails and pets' nails; this electric nail file sander is also suitable for carving, engraving, grinding, sanding, polishing and drilling. It can fit for the 3/32 drill bits. It also provide foot pedal function, you can choose hand or foot mode for your convenience.

💎 Come with 6 types of drill bits, designed for diverse use - remove callus, clean, grind, and polish your nails, from buffing to shaping. Suitable for grinding, polishing, unloading, exfoliating, engraving radian and so on. Grinding bit is designed for the removal of gel and acrylic panels with high efficiency. Package also comes with Sanding Bands for Manicure Pedicure Nail Drill Machine 80#*100, 120#*100, 180#*100.

💎 Great Gift for Women: This electric nail drill is easy to use and encourages using at Nail art shop and home. Best gift for women who are nails beginners in Thanksgiving and Christmas.Must have a reliable & nail drills for acrylic gel nails.

🍁 Our all nail drills are got the certification of ROHS, FCC, CE, ISO9001. We are one of the leading suppliers of Spa, Salon and Aesthetic products in Ontario CA. So Any Problems, Contact Our Superior Customer Support Team! we guarantee 100% refund or replacement. 100% Satisfaction Guaranteed.



Checking local availability
Shipping & Pick up