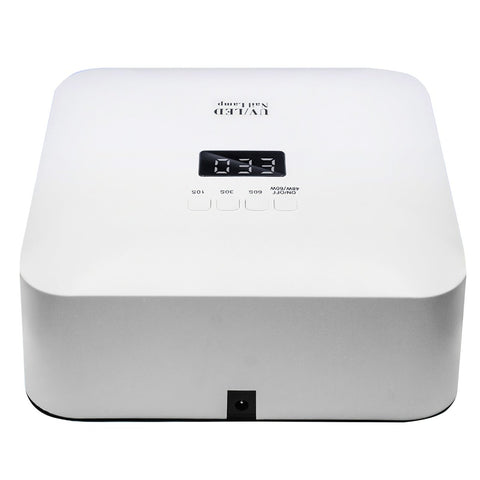 Salon Grade Nail Machine 33 Beads UV Led Nail Curing Lamp 60W
SKU: 5011720F
ISBN: 631390767077
Japanese Design Big Size Square 48W/60W power free switch 33 Beads with LCD Screen UV Led Nail Curing Lamp (the model of 48W, the painless baking glue method is selected). This Nail Gel Lamp applicable to curing almost all nail gels! Lamp for Fingernail & Toenail Gels is great choice. Its a fashionable and durable Nail Curing Lamp for both home & salon use. Besides, this 48W / 60W Double Light Source Technology makes Drying Instantly. So make a curing nail lamp easy here.

POWERFUL AND 50% QUICKER: With a power of 48W/60W, 33PCS LED,Combined light beads using dual light source(365+405nm). It dries your gel nail polish super fast and can cure all types of UV and LED nail gels--e.g.Base Coat, Top Coat, Color Gel, Hard Gels, Builder, acrylic, sculpture gel, gem glue etc.No brand requirements.

4 Timer Setting for Best Gel Polish Nail Dryer Features, All in One this UV Led Nail Lamp: For the 4 timer nail curing lamp settings: 10s, 30s, 60s, 90s. The Digital time display ,know curing time clearly. With automatic sensor, hands put in light up ,start to work ,hands out light off ,stop work, easy to tap on the different timer to suit your hand.

Power Saving & Heat Dissipation of this Gel Nail dryer: With high efficiency, The UV Nail dryer can save you more power, cool the machine continuously for 30 seconds, protecting the machine from overheated and It is low wattage but quick-drying which can shorten your curing time by 50% or overheat than others nail lamps dryers.

💗【Warm Tips】Different types of gel polish may need different curing time due to the difference in the ingredient. It is normal for the base coat to remain sticky after using the LED nail lamp, which will help the color coat stay on your nails longer. This uv nail lamp is not suitable for regular nail polish.
Checking local availability
Shipping & Pick up