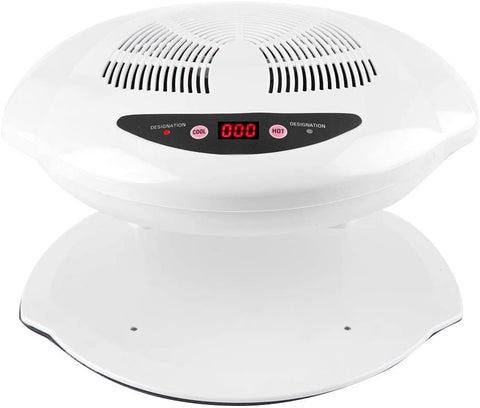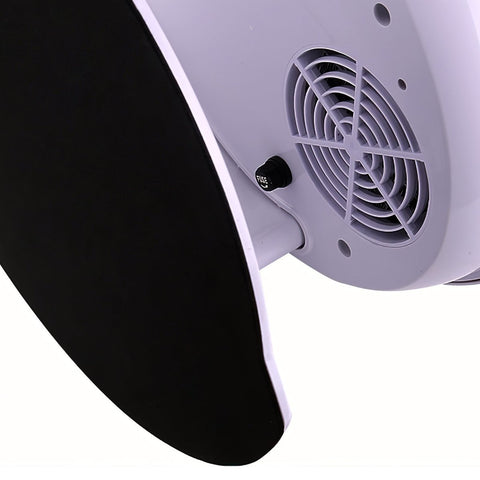 Air Nail Dryer
SKU: 5010100
ISBN: 631390765103
SUITABLE FOR CURING ALMOST ALL NAIL POLISHES: LED gels, UV gels, including hard gels, building, sculpture gels, gems, etc. Its light is closer to white light and does not harm the eyes or skin. Suitable for home and salon use, this is a nail dryer that can help you solve almost all curing problems!

INTELLIGENT SENSOR DESIGN: automatic sensor, easy to use, controlled by automatic sensor. When you put your hand on the fan, the sensor detection function will turn the fan on and off automatically to recover. Features high quality, large size and spacious space, and able to handle both hands and feet under the dryer.

ADJUSTABLE WIND MODE: hot and cold wind, widened air outlet, larger working area. The fan dryer widens the outlet to avoid overheating and damage to the machine. The pad is strong and more stable during curing. Suitable for professional salon and home use. It's also a great gift for ladies who like to get their nails done.

SUITABLE FOR: Suitable for hand and foot use of nail technicians and artists the vacuum cleaner is suitable for nail salons, nail schools/colleges, personal use, wholesale, and other professional home care essential nail salon artists.

MAKE SURE TO USE: ABS plastic body, high-temperature resistance, high-temperature resistance. Gradual LED decorative lights reduce the pain of curing nails. Ventilation non-slip pad design. Perfect Customer Service: Be sure to pay attention to falling; 100% Money Back Guarantee if you don't like it.
Shipping & Pick up