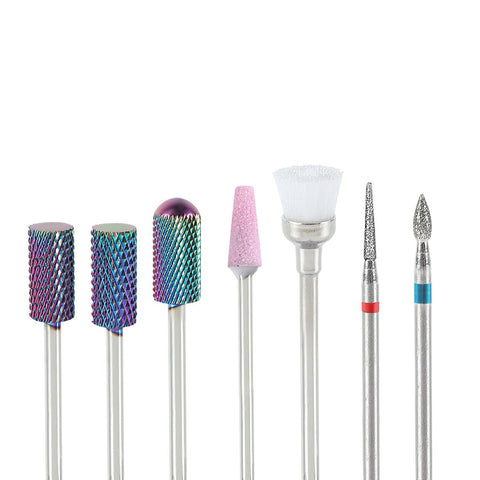 7 Pcs Nail Drill Bits Kit B
SKU: 5020017
ISBN: 0631390765929
Seven-piece expert tungsten diamond nail drill bits set so you can sharpen, grind, neaten, carve, smoothen, polish, and reshape gel and acrylic nails, and stimulate nail growth.

Nail bits with different sizes and quantities- There are 7 PCS different nice nail drill bits set, which fits most nail drill machines that use 3/32" bits, can be used to get into tight areas such as sidewalls and cuticles-3 Tungsten Carbide 3 Diamond Ceramic 1 brush.

Multi functions and safety nail drill bit- The gold coated rotary carbide drill bits set are ideal nail art tools that are applicable in nail drill machine, accomplishing diversified professional jobs, such as carving, engraving, grinding, routing, sharpening, sanding, polishing, drilling and so on, nail drill bits set suitable for natural nails as well as gel nail polish, nail extension gel, great tools for any professional manicurist or beginner.

Fashionable style & Vogue shapes & Protecting skin & Convenient safety nail drill bit to use: Diamond nail drill bits set are excellent for filing enhancements,if kept over one part of the nail for too long, they will have a tendency to heat up.
Checking local availability
Shipping & Pick up