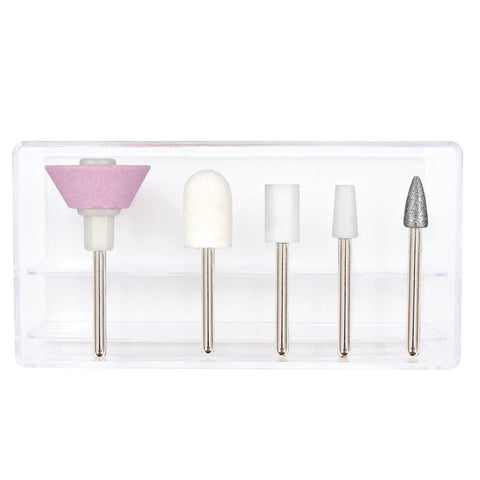 5 Pcs Nail Drill Bits Kit
SKU: 5020013
ISBN: 0631390765066
Made of high-quality materials, durable, and environmentally friendly, so you can experience the fun of DIY. Professional salons come from your home. Premium material made, durable enough for a long time. One big pink quartz head, two small white different shape heads, and one wool polish head.

5 types of drill bits, designed for diverse use - remove callus, clean, grind, and polish your nails, from buffing to shaping. Suitable for grinding, polishing, unloading, exfoliating, engraving radian, and so on. The grinding bit is designed for the removal of gel and acrylic panels with high efficiency.

Excellent durability and cutting performance. You can use them differently based on your habits and work habits. Five grinding bits can be used interchangeably, can be positive and negative rotation.

The needle can be used to clean the stratum corneum area, the sidewall and apply it under the edge of the nail. Easy to use, safe, and not hurt hands. Cylinder/flame position cleans dead skin. Spherical drills can also be used in the stratum corneum area and sidewalls.
Checking local availability
Shipping & Pick up