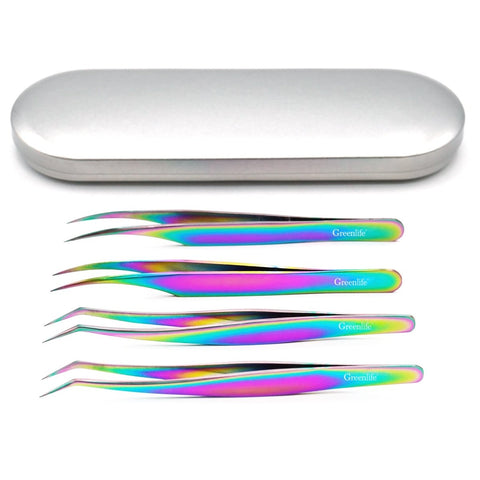 4PC Eyelash Tweezers kit (Rainbow Color)
SKU: 201392
ISBN: 0787446972220
2 pcs ''Dolphin-Shaped' 'tip Tweezers are perfect for selecting an individual lash or to separate a client's natural lashes in order to isolate one natural lash. 2 pcs ''feather-shaped'' Curved Tip Tweezers are specifically designed for the easy to pick up tiny eyelashes and 3D 6D volume mink eyelash extensions.

Multi Titanium platingPrecision Tweezers. Made with stainless steel and coated in titanium plasma rainbow color. The tips are pointed and durable and easy to clean. Very fine workmanship. Flat, Angled, Pointed, and Slant tweezers to meet a variety of needs and solve most tweezing issues. The tips of the whole tool are lay flush, close completely. These tweezers can adapt to long-term work. Lightweight so does not cause hand fatigue.

Suitable for makeup salon, cosmetics studio, makeup artist, professional use, or personal use. Great for eyelash extension. Easily remove ingrown hairs, splinters, debris, thorns, glass, metal, and anything embedded under the skin, such as fingers, hands, feet, legs, nose, ear hair, and also be used fine groom the eyebrows. suitable for picking, clipping nail art rhinestones, or decoration.

Professional precision tweezers for removing ingrown hair, pulling splinters, and tweezing unruly eyebrow hairs. These high-precision pointed tweezers spread the natural lashes making it easier to separate and isolate the desired lash for application. With Sophisticated fine, they can be adapted to very fine works in the 0.01mm object in a long contact surface.

Advanced tweezers are equipped with high-quality metal boxes, which can better protect and store these professional tools, demonstrating the user's higher professional level. The pointed bent tweezers are the best tools for individual eyelashes extension specialists or precision works.
Shipping & Pick up