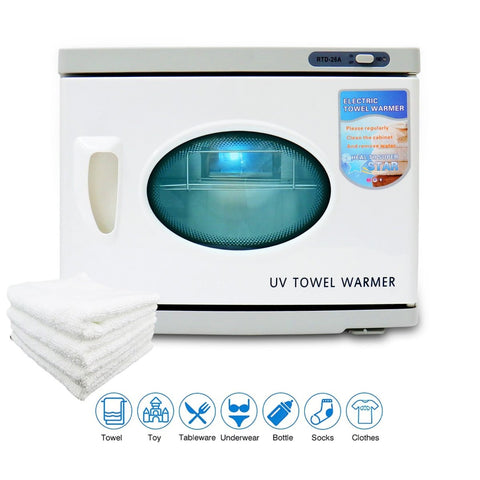 23L Hot Towel Warmer w/ UV Sterilizer - TW811
SKU: 111811
ISBN: 0714735217649
Heats up faster and hotter than competitive models with 180° towel temperature and features a quality powder-coated aluminum frame with fortified door hardware and seals, increasing the units' life expectancy. Holds 15-20 generous hand towels yet fits easily on a desktop. Tested and approved for safety and reliability by the independent Underwriters Laboratories. Features a rustproof stainless steel interior.

This towel warmer has 120V voltage, provides 60HZ frequency and 200W power.
One door towel warmer with window and two layers holder making it easier to use and it will keep the temperature of towels inside.
     · The size of outer: L 45cm/17.7inch x W 34cm/13.3inch x H 28cm/11inch
     · The size of inner: L 37cm/14.5inch x W 17.5cm/6.8inch x H 24cm/9.5inch
     · Weight: NW 6.1kg
     · Color: White
Checking local availability
Shipping & Pick up