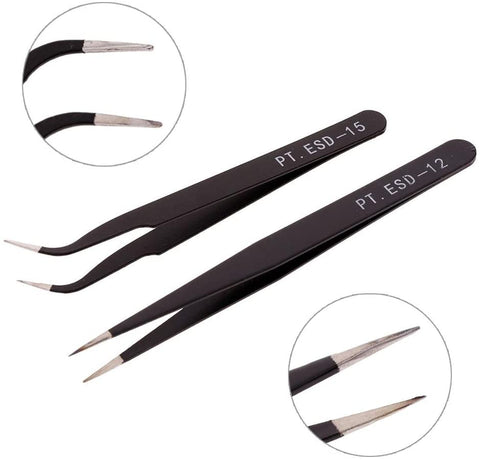 2 PCS Eyelash Extension Tweezers, 3D 4D 5D 6D Volume Eyelash Extension Tweezers, Stainless Steel Ingrown Hair Eyebrow Shaping Eyelashes, Straight and Curved Tip Tweezers Set (Black)
SKU: 201432
ISBN: 0655887635229
$6.00
$6.99
you save $0.99
2 PCS PACKAGE: 1 straight tip tweezers and 1 curved tip tweezers Stainless steel with Quality Special Spray Latex Craft. WITH SAFE CAP ON THE HEAD - tapered fine-tip tweezers, so please use them with caution and put the caps on heads when not use to avoid scratch yourself.

EYELASH EXTENSION TWEEZERS - specially designed for the professional precision tasks in grafting eyelashes, designed to meet the requirement of the eyelash extension work. 

STAINLESS STEEL TWEEZERS - anti-magnetic and anti-acid, resistance to rust; Suitable for makeup salon, cosmetics studio, makeup artist, professional use, or personal use.

FUNCTION - good for selecting, isolating, and picking up eyelashes; The fine pointed tips make them easier to maneuver into any direction or angle.
Checking local availability
Shipping & Pick up