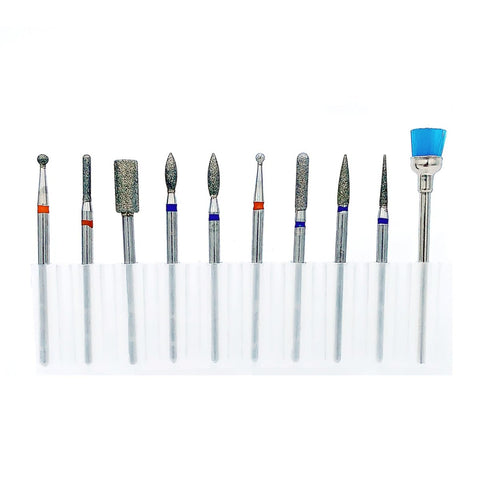 10 Pcs Nail Drill Bits kit Set A
SKU: 5020009
ISBN: 0631390765028
Multifunctional-made of tungsten steel carbide, these nail art tools are hard-wearing, rust resistant and durability. To protect from overheating damage with heat resistance. 

Sharpe and easy to use-cut your time in a half. All around nail use means you can trim the cuticle, sidewall, or go underneath the nail to keep them clean.

Universal Size - 3/32" shank, suitable for most electric or rechargeable manicure nail file machine. To protect your skin from being harmed thanks to superior craftsmanship and well-tested design.

Function - It is ideal for nail beautify, nail polishing, nail clear and care, peeling, etc., suitable for the manicure, pedicure use etc. You can sharpen, grind, neaten, carve, smoothen, polish and reshape gel and acrylic nails, and remove the gel nail or dead skin.

Compact and unique design: With its portable design and light weight, it is convenient for both personal and family use anytime and anywhere. To protect your skin with superior craftsmanship and well-tested.
Checking local availability
Shipping & Pick up