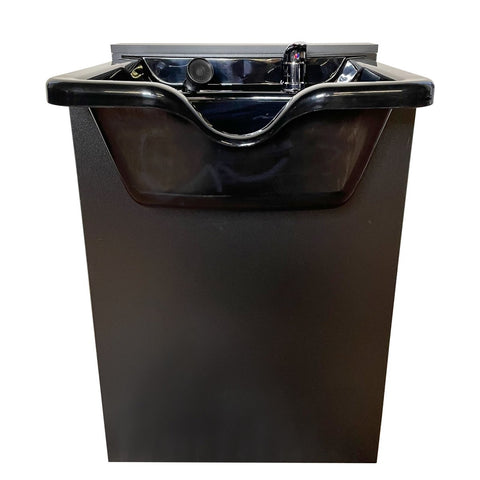 Salon Shampoo Basin Bowl Sink with Accessories Model - 212
SKU: 129121
ISBN: 0655887642999
Salon Shampoo Bowl and Cabinet: The salon shampoo square bowl spa equipment black cabinet is specifically designed to be installed easily in a professional or private hair and beauty salon. This cabinet sink fits in well with many decor and color schemes and includes additional organizer storage space for hair products, beauty tools, and equipment.

Deep & Large for Easy Use: This sink has a deep, large basin design for easy use. When rinsing out a shampoo job, you need plenty of space. This design helps to trap splashes and give the hair enough space so it won't get caught in the drain. Unlike a portable bowl, basin, or tray, this sink is shaped specifically for hair washing and is equipped with a gel neck rest for maximum comfort.

Easy Installation: Our high-quality shampoo cabinet is made from water-resistant, high-fiber, high-density melamine and has a small shelf for your shampoos and other styling products. The side entry door provides easy plumbing installation in addition to a small storage area! It is functional and visually appealing and will provide long-lasting durability and service.
Checking local availability
Shipping & Pick up