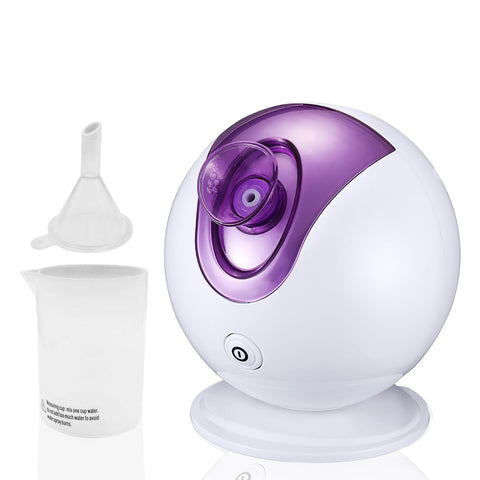 Magic Ball Nano Ionic Facial Steamer
SKU: 5100777
ISBN: 619264629706
💦【Home Sauna SPA System】- The Nano ionic hot mist face sprayer is designed for skin moisturizing, it can provide you professional salon sauna spa at home. Easily absorbed nano-water vapor, 10 times penetration than regular steamer, you can easily clean and moisturize your skin.

💦【Efficacy Facial Steamer Device】- Speed Up Blood Circulation; Improve Skin Cell Vitality and Oxygen Absorption; and Make Skin Tone Look Healthier; Removes Dirt, Oil and Makeup; Melts Away Dead Skin Cells; Make Toner, Cream and Other Nutrients Absorbed Effectively; Moisturize the Skin; Increase Skin Elasticity and Keep Your Face Young!

💦【Precise Temperature Control】- 40℃/ 104℉ non-stop spraying & avoid burning your skin. Quickly generate water vapor in 30 seconds, the water mist is constant temperature and uninterrupted. Uniform and warm mist can relieve allergic rhinitis, nasal congestion and relieve eye fatigue. You can also add essential oils to the water when you use it, it can soothe your tired day!

💦【Professional Facial Treatment】- The Facial steamer not only helps dry skin by adding moisture, opens pores to allow better penetration, but also can reduces acne and blackheads, weakens pigmented spots, removes congestion in the sinuses. When you use it, just make sure that the nozzle of the steamer is aimed at the top of the chin and is 20cm apart, so that you will not be burned, and the water mist will cover the entire face.

💦【Compact & Stylish Design】The facial steamers sleek, stylish design and color complement all your beauty tools, as well as your bathroom or makeup area decor. Its compact profile fits neatly on vanity tops and practically any other space.
Checking local availability
Shipping & Pick up