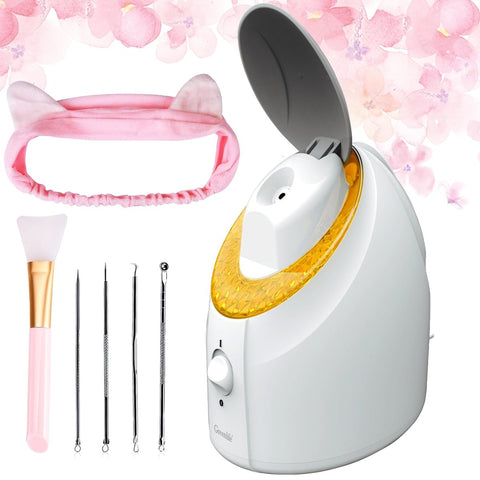 Nano Ionic Facial Steamer (Without UV Filter)
SKU: 5011722
ISBN: 631390767091
$7.99
$14.99
you save $7.00
💦NANO IONIC STEAM: 10 TIMES PENETRATION, Besides the conventional PTC heating element, This new professional facial steamer also features with an ultra sonic vaporizer, producing nano steam with ionic water particles that is 4,000 finer than ordinary steam, 10 times more effective in penetrating your skin. The mist is stronger, finer, and penetrates faster.

💦DEEP HYDRATION, NASAL ISSUE RELIEVE: Warm mist face steamer helps loosen, unclogging the pores, leaving your skin with a fresher appearance and flush impurities out of your pores, increase blood circulation to feed your skin cells with new nutrients. Beside skincare, our face humidifier can also be used to relieve sinuses and nose congestion. Distilled water or pure water is suggested to be used for better results and to extend the life of the steamer for face.

💦LARGER CAPACITY, WATERLESS OFF: A larger 90 ml water reservoir provides 20 minutes of steaming time and heats up within 30 seconds, allowing you enjoy a professional luxury facial sauna at home. When the water tank runs out, our home facial steamer will automatically turns itself off, making it far safer. NOTE: THE LIGHT WILL STILL BE GREEN, UNTIL YOU SWITCH OFF THE BUTTON.

💦Our nano facial steamer is made of eco-friendly ABS, BPA free and non-toxic. But please run the machine with a full tank of water before your first use to remove the new plastic smell. Designed with a dust-proof cover, which reduces the scope for dirt and impurities to cling to the nozzle. Please empty your steamer's water tank after every use to prevent odor.

💦WHAT YOU GET: Attached to this facial steamer is a hair band to secure your hair so they won't fall off your face during steam; a stainless steel blackhead remover tool kit to help you remove impurities like acne, blackheads, whiteheads and pimples; a silicone face mask brush to apply a moisturizing mask after a steam. 💞Please feel free to contact our customer service. We will provide the best solution to you within 24 hours.
Checking local availability
Shipping & Pick up