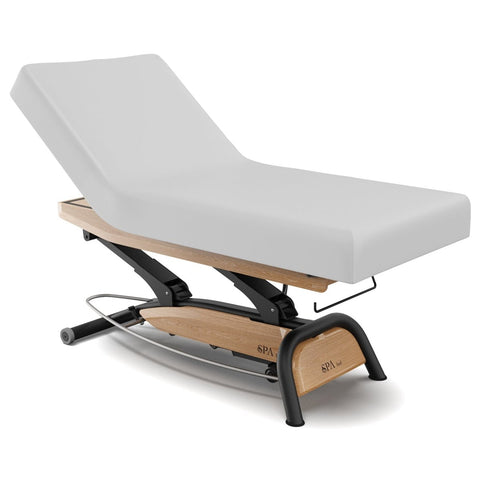 Goodwill Tilt SPA Electric Massage Table
Description
The Goodwill electric massage table is a versatile piece of equipment, suitable for a wide range of applications from acupressure, beauty treatments, physiotherapy, to massages. As lifestyles evolve and the demand for relaxation and self-care grows, many seek places like foot baths, beauty salons, physiotherapy hospitals, and baths to unwind. With its steel structure, which offers a lightweight and flexible design. Its adaptability allows for customization to meet specific market demands and individual customer needs.
Features
Versatility: Suitable for use in foot baths, beauty salons, physiotherapy hospitals, baths, and more.

Customizable: Offers strong adaptability with the option to customize various functional modules.

Quality Materials: Features a multi-layered foam system for optimal comfort, with a top layer of PU leather that can be easily removed and replaced.

Accessories: Comes standard with a hand controller and paper roll holder. Optional accessories include a stainless steel foot pedal system, face pillow, and face pillow holder.

Warranty: 2-year warranty against manufacturing defects.
Specifications
| Specification | Measurements  |
| --- | --- |
| Length | 75.6" |
| Width Options | 31" or 33.5" |
| Height Range | 22" to 41.7" |
| Foam Thickness | 7.5" (Comprising 3.2" multi-layered hard foam, 2.75" breath wave, and 1.6" silk foam) |
| Weight Capacity | 450lbs |
Checking local availability
Shipping & Pick up